Sallie MARTIN

---
Born in 1896, Sallie Martin was the first singer of Gospel songs. Her down-home style was initially at odds with Thomas A. Dorsey's fledgling movement. But, in 1927, she joined The Dorsey Trio. In 1932, she was the co-founder, and organizer of the National Convention of Gospel Choirs and Choruses, of which she served as vice-president for the rest of her life.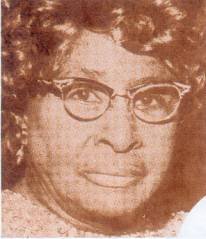 In 1940, she formed the Sallie Martin Singers, with Roberta Martin (1907-1969), Willie Webb, and Eugene Smith. The later members of her group were herself, Roberta Martin, and Doris Akers. She traveled the Gospel concert circuit as a soloist and with her group.
In 1979, she took a leading role in the French production of "Gospel Caravan" in Paris, France.
Two of her songs are: "Just A Closer Walk With Thee", "God Put A Rainbow In The Clouds"