Dorothy LOVE-COATES and The Original Gospel Harmonettes
---
Dorothy Love Coates was a composer ("I'm Holding", "Every Day Will Be Sunday"). She was also leading The (Original) Gospel Harmonettes, a female aggregation, who sang Gospel songs.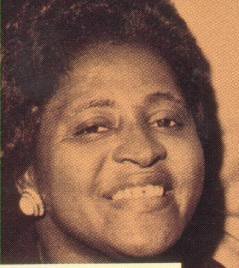 In fact, this group was formed in 1940, and its first members were Mildred Madison Miller, Odessa Glasgow Edwards, Vera Conner Kolls, Willie M. Brooks Newberry and their composer was Evelyn Starks.
The first recording of this group was in 1949, without Dorothy Love Coates, who started her recording with the (Original) Gospel Harmonettes in 1951.
In the middle 1950s, the group was composed of D. Love, M. Miller, W. Newberry, V. Kolls, O. Edwards, with Herbert "Pee Wee" Pickard, piano. Their records were under the labels Victor, Speciality, Nashboro, Andex and Savoy.
Here are some of their songs:
"Come and Go With Me", "Every Day Will Be Sunday", "God Shall Wipe Away All Tears", "He's Got Everything You Need", "I'm On My Way", "I Won't Let Go", "Till My Change Comes", "That's Enough".