Before 1865
The very first spirituals were created by slaves, who were not professionals. In "shouts", singers and dancers participated for pleasure; singers were either tired dancers or the most talented voices.
Slaves also attended religious services at church and in plantation houses. They used to sing hymns, psalms and spirituals. Preachers there often led the congregations for singing.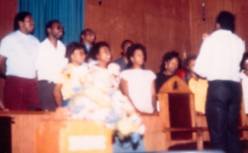 Some Praying and Singing Bands met after the formal worship services for praying, dancing holy dances and singing "corn-field ditties" (precursors of negro spirituals) The man who could sing loudest and longest led the Band. He had a handkerchief in hand with which he kept time and he tapped the floor with his feet like a bass drum.
Negro spirituals were also sung by individuals (example, "I feel like a motherless child"), in family or with friends, at home and in fields.
Specialized groups sang various types of music. So, since the 1850s, "quartets" (or "quartettes") were Black men who sang religious music. They were soloists of at least three voices, and they were between four and seven in number.
Many musicians and singers had also the opportunity to perform in barbershops. Their songs were rather secular even if some pieces were based on spirituals.
Between 1865 and 1925
During the first years after slavery was abolished, most of African American wanted to forget anything related with the hard times. But, some other African American, mainly the most educated people, decided to show how great were these traditional spirituals.
The members of the Fisk Jubilee Singers were students of Fisk University (Nashville, Tennessee), with well-trained voices. They sang ("There's A Great Camp Meeting", etc.) at many locations in the United States and in Europe (1867-1872). In 1872, some students of Hampton Institute (Virginia) were organized into a singing group and taken on tours.
In late 1870s and early 1880s, many groups and choirs appeared such as, the "Tuskegee Institute Choir", the "Loudin's Jubilee Singers", the " Wilmington ( North Carolina) Jubilee Singers", the "Slayton's Jubilee Singers", the "Sheppard Jubilee Singers", the "MacMillen and Sourbeck Jubilee Singers" (later named "Stinton's Jubilee Singers"). They were professional and gave concerts in halls.
"We have this wonderful store of folk music-the melodies of an enslaved people, who poured out their longings, their griefs and their aspiration in the one great, universal language. But this store will be of no value unless we utilize it … unless our musical architects take the rough timber of Negro themes and fashion from it music, which will prove that we, too, have national feelings and characteristics". R. N. Dett (1918)
In the 1890s and early Twentieth century, African American congregations sung at church some traditional spirituals and new religious songs similar to spirituals.
At the same time, boys used to form "quartets" to sing spirituals outdoor in schoolyards or elsewhere. They gave birth to "street singers" who where boys, and adults as well. Then, many schools managers sponsored both jubilee groups and "quartets" (Livingstone College, Bennett College, etc.).
Billy Mills, a member of the "Stinton's Singers", was the grand-father of the four brothers who founded the quartet "Mills Brothers", in 1922.
"I firmly believe that Spiritual should be considered a It has come to the stage now, especially with these numerous quartets, where they consider it necessary to make the audience laugh sacred, serious song… A quartet proceeded to exaggerate their gestures and motions. As a result the sacred thought brought out in the words were entirely lost. It was cast aside…Therefore let us no longer tolerate the profanity of our sacred Spirituals. Let us, who have the opportunity, insist that these songs be used for the Glory of God and not for the amusement of man".(George A. Webb, 1928)
During this period, the rural life became more hard, and some people moved to towns. Some of them earned money by singing spirituals or new Christian songs, from town to town. The best known singers were "blind singers and footloose bards", such as Blind Joe Taggart. Other singers, such as Roland Hayes, included spirituals in their performances.
"A favorite hangout with them was he railroad station. There, surrounded by crowds of country folks, they would pour out their hearts in song… They earned their living by selling their own songs… Some of these country boys hustled on trains. Other visited churches. I remember buying such a (song) entitled I've Heard of a City called Heaven".(W. C. Handy)
Between 1925 and 1985
During the 1930s and 1940s, traditional African American songs were less popular. But, John Lomax tried to collect these songs, for the Library of Congress. Then he founded singers like Vera Ward Hall and Dock Reed.
In the 1930s, Black school educators promoted singers using formal harmony singing, instead of "boys quartets" and "doo-wop" music singers .
During the years of Black Renaissance, several artists, such as Marian Anderson ("Deep River, etc.) and Paul Robeson ("We Are Climbing Jacob's Ladder", etc.), promoted negro spirituals. Some of them included negro spirituals in their shows. So, Jules Bledsoe sang "Deep River" in a repertoire including classical and opera pieces. Eva Jessie and her choir created an oratorio "The Life of Christ in Negro Spirituals" (1931). Dorothy Maynor was a concert artist, who used to sing negro spirituals.
Thomas A. Dorsey, the Father of Gospel Music, promoted many choirs and choruses, who used to sing at churches. W. Herbert Brewster, and Roberta Martins were two of his companions. Sallie Martin ("Just a, Closer Walk with Thee", etc.) joined the Dorsey Trio in 1932.
Sister Rosetta Tharpe ("Don't Take Everybody to Be Your Friend", etc.) was the first artist who sang Gospel music in a secular setting. She was followed by many other singers (Marie Knight, etc.). Mahalia Jackson ("In the Upper Room", etc.) performed both at church and on tours.
In the 1940s and 1950s, many quartets sang negro spirituals and gospel songs. The older ones sang a capella. For example, the Five Blind Boys of Mississipi performed when they attended the Piney Woods School. The Golden Gate (Jubilee) Quartet ("Rock My Soul", etc.) began in 1925, at the Booker T. Washington High School in Norfolk (Virginia). Other quartets of this period: the TCI Womens Four (TCI: Tennessee Coal and Iron Company), the Five Trumpets, the Heavenly Gospel Singers, the Silver Leaf Quartet, the Highway QCs (QC: Quincy College).
Dorothy Love Coates and the Gospel Harmonettes were one of the most appreciated female singers, in the 1950s.
Some artists led choirs for singing Gospel songs and sometimes negro spirituals: James Cleveland, Julius Cheeks, Alex Bradford, for example. Mary Johnson Davis sang Gospel music in a bluesy way.
Some choirs, like the " Wings Over Jordan", who sang spirituals, were popular because of their performances on stage and on radio.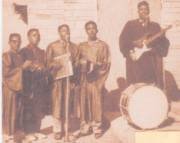 Street singers: Rev. Louis Overstreet and his sons
It is of interest to know that since World War II, negro spirituals and Gospel songs have been appreciated outside the Unite States. For example, in the 1960s, some singers performed in France.
After 1985
After 1985, negro spirituals are sung at church, by the congregations and by invited singers. But many soloists and choirs sing negro spirituals for concerts and special events. So, for example, Jessye Norman and Kathleen Battle include traditional spirituals in their repertoire.
The Plantation Singers perform spirituals, in the tradition way of singing in plantations. Some a cappella singing groups, such as the Northern Kentucky Brotherhood Singers, include negro spiritual in their repertoire.
Various artists now sing Gospel music: most of them perform at church, but some artists sing only at secular places (records, concert halls, etc.).
It is of interest to know that since World War II, negro spirituals and Gospel songs have been appreciated outside the United States. For example, some singers performed in France.
Some singers of Gospel music in France
Since the end of World War II, negro spirituals and Gospel songs have been popular in France and other European countries. The most famous French quartet group was Les Compagnons du Jourdain who performed between the 1950s and the 1970s.
Some other amateur groups have also sung spirituals and Gospel songs. An example is The Gospel Messengers (Les Messagers). Now, Spiritual Workshop Paris sings negro spirituals and Gospel songs (created before 1970).
Various artists now sing Gospel music: most of them perform at church, but some artists sing only at secular places (records, concert halls, etc.).
Know more on some Gospel singers
The "Gospel Music Workshop in America" click here
Some artists click here
This section is organized
by Spiritual Workshop, Paris
Mail to : question@negrospirituals.com