Mahalia JACKSON (1911-1972)

---
Born in Louisiana, and she settled in Chicago in 1927. She first sang in church choirs and in a quintet (the Johnson Singers). Then, she became associated with Thomas A. DORSEY, who wrote "Peace In The Valley" for her. She had a career as a soloist.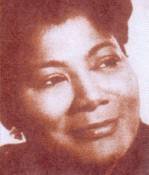 She toured extensively at home and abroad. So, her first tour in Europe was in 1952. In her autobiography, she wrote, "A great influence in my life was the sanctified or Holiness churches…Everybody in there sang and they clapped and stomped heir feet and sang with their whole body… Their music was so strong and expressive, it used to bring tears to my eyes."
In 1947, she earned the title of Gospel Queen. She was practically an American institution. In 1961, she was invited to sing at an inauguration party for President John F. Kennedy.
Here are few of her negro spirituals and Gospel songs, "Move On Up A Little Higher", "Didn't It Rain", "Little David Play O Your Harp", "Every Time I Feel The Spirit", "Nobody Knows", "Were You There", "There Is A Balm In Gilead", "Rockin' In Jerusalem", "Said He Would", "Just Over The Hill", "Get Away Jordan", "In The Upper Room", "Trail To haven", "Prayer Changes Things", "Go, Tell It On The Mountain"